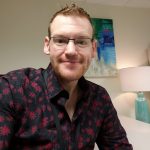 Christopher L. Averill is a neuroscience researcher and innovation specialist with a background in data science, magnetic resonance imaging, biotechnology, and development of biopsychosocial and organizational assessments. His academic interests include the study of chronic stress and applications of neuroimaging in the practice of precision psychiatric medicine.
His work at the Yale School of Medicine and other educational institutions has given him a deep appreciation for the interplay between the parallel goals of teaching and research while dealing with internal, public, and private funding. His affiliation with the Department of Veterans Affairs, and past consultation at VA Hospitals around the country have also developed a broad perspective on some of the challenges facing monolithic government entities. Few stakeholders in these large systems are given the opportunity to understand the full system or identify variables affecting them. This makes it impossible for them to invest in critical leverage points, conserve limited resources, and have the support to reach outside of silos to bring about sustainable solutions to challenges.
Chris is also an accomplished computer programmer and digital systems architect, with an impressive track record of platform evaluation/development/implementation for institutions of higher learning, local and state governments, and private citizens spanning over the last 15 years.
Chris grew up informally studying leadership with his father, who was passionate in his commitment to serving his employees and organization, and to growing as a leader within the corporate strictures of the international industry in which he worked. This inculcated in Chris an intimate appreciation for the role of leadership in an organization, and a desire to better understand the challenges of leadership, particularly when desire to grow and capacity to serve are challenged by limitations of funding, time, support, or by other systemic complications. Chris has also experienced the challenges of public leadership from his work with the Department of Veterans affairs and his attendance at the Systems Thinking for Public Leaders program. His work as a consultant with his own business, a member of the Yale and Baylor College of Medicine communities and his current work with the VA gives him a unique view of leadership in different sectors. Chris began working with the Public Sector Consortium as a website consultant, and soon began investing his time with the PSC in other ways. He welcomes the responsibilities of Board membership, and continues to explore new ways in which his experiences and interests can be applied in service of the Public Sector Consortium's mission.
Connect with Chris on Twitter or ResearchGate to learn more about his work or view his academic publications.